Academic institutes in India are ramping up Intellectual Property Rights (IPR) awareness and filing. This is thanks to several government initiatives that have tied funding, rankings and accreditation to IPR activities.
Within this framework, Turnip has reached out to 30,000+ scholars from 2,000+ institutes since the pandemic began. A combination of online webinars, live streams, courses and conferences have been delivered on a wide variety of Intellectual Property topics.
"I have an idea, what should I do to get it patented?"
This was one very typical question we got from our audience via different channels. That's when I realised the need for a course that covers not just the technical and legal details, but also the "mindset" of maturing ideas to patents. For example, here is one excerpt from the course:
"Most people know about patents from "pop culture" references. They associate it to being smart or highly intelligent. But the truth is, anyone can get a patent. All you need is ingenuity and creative will, not necessarily high IQ!"
For example, one very important tool to mature ideas is to use Invention Disclosure Forms that are discussed in the course. Here are a few more excerpts:
Firstly, an IDF acts as a guiding light that forces inventors to think. The act of writing organises your thoughts. New ideas appear. You might have observed this phenomenon when you start writing. Be it research papers, project reports, dissertation, or anything! One idea or thought leads to the other and the ball starts rolling.
Secondly, IDF prevents many undesirable outcomes associated with patents being a legal right. For example, right from the start you are forced to note down list of inventors, original date of invention, proofs, obligation to sponsors, etc. Patents are a "Property Right" and disputes are known to occur when stakes are high.
Thirdly and finally, IDFs help documenting important information that will help fulfil the patentability criteria.
Who should do this course?
This course is suitable for all students, faculty and professionals interested in innovation and entrepreneurship. There are literally no pre-requisites. The course simplifies the legal mumbo-jumbo associated to patents.
Here are a few more excerpts from the course about why Innovation and IPR will be the decisive drivers of economic growth in India in the 21st century.
The amount of patenting in last 20 years has doubled. What do you think is driving the demand for patents? Think about it. Why are top corporations of the world piling up patent portfolios? The answer is, "expectation of future profits!"
Patents are an instrument of doing business.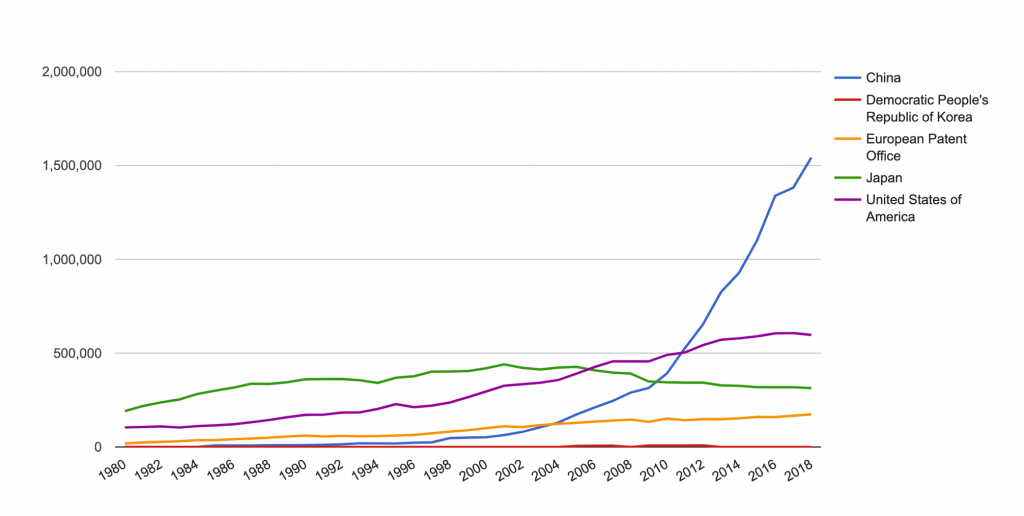 In fact, patenting volume is closely connected to the economic growth of a country. You will see that economies that have declined (Japan) have shown a declining patent trend and rising economies like China have shown a brisk increase in patenting (> 1.5 million/year).
What is covered in the course?
The course is designed in the form of a 10-Day Journey; each day covering one of the following topics in an easy going manner.
Difference between idea and invention
Importance of writing and drawing
Invention Disclosure Forms
An entrepreneurial mindset
Conducting Patent Searches
Knowing the Patentability Criteria
Contents of a Patent Application
Types of Patents in India
Forms and Fees
Provisional Patent Filing
Professional Certificate
On completion of the course, participants can take a self-evaluated quiz to test their learning. In addition, professional and shareable certificate is issued by Turnip Innovations. The certificate can be added to your LinkedIn profile section "Licenses & certifications" with "Turnip Innovations" as the issuing organisation. The certificate also has a permanent URL on the turnip.co.in website and a unique certificate id.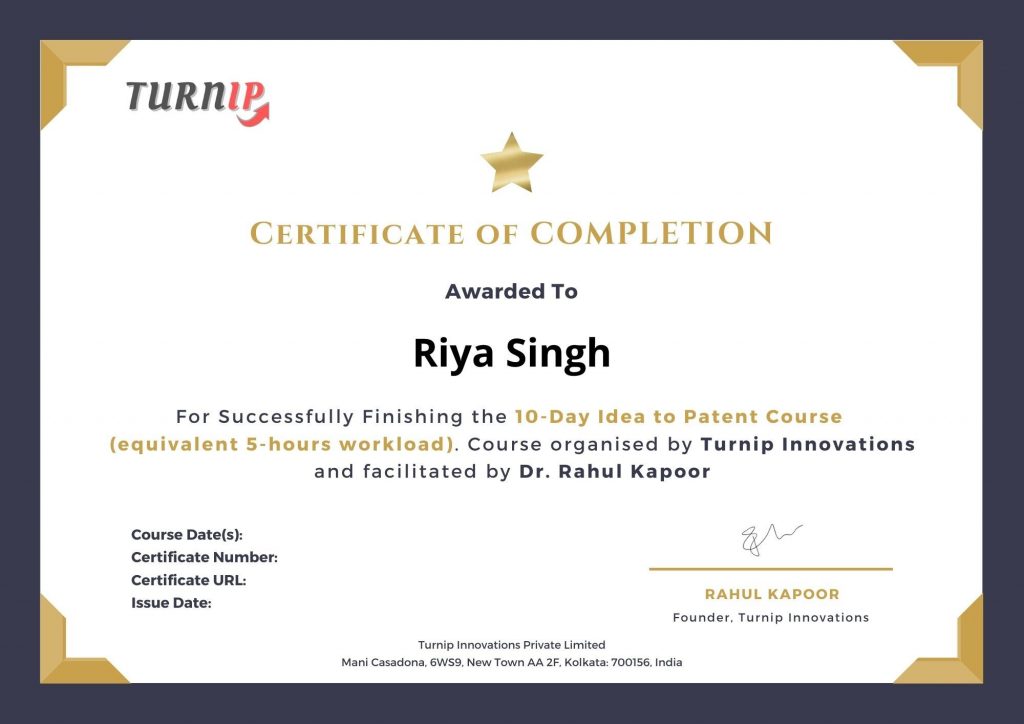 Pricing and Registration
The course is currently offered at a nominal introductory pricing of ₹180/- (incl. certificate). The price will be increased to ₹300/- soon.
Registration Link: https://rzp.io/l/idea-to-patent
About me
I have over 12 years' experience in the patent field. During this time I have been involved in several technology commercialisation projects, patent search, consulting and teaching assignments. This course is curated from my experiences in the patent field from a non-law background.
---
Register for the Course: https://rzp.io/l/idea-to-patent
View other courses by Turnip: turnip.co.in