After a fascinating first edition in January 2021, we have announced the second edition of Turnip Innovation Festival 2022!
Turnip Innovation Festival is our annual online innovation conference. More than 5000 students, faculty and professionals will attend the online event from the fields of Innovation, Intellectual Property, Incubation and Entrepreneurship!
Some details about the event:
Date: Saturday, 22nd January, 2022 (10am – 6pm)
Venue: All Talks Live Streamed on Turnip's YouTube Channel
Theme: Intellectual Property and Climate Change
Registration Fee: Free of charge (incl. certificate)
Registration Link: https://bit.ly/31RN4WO
Format: Day long live streamed sessions will be hosted on the Turnip YouTube Channel. There will be 3 types of talks: (i) Two Keynote Talks of 40 min each, (ii) Six Cleantech Entrepreneurship Talks of 15 min each, and (iii) 4 Knowledge Talks related to IPR of 40 min each. In addition, Live Expo Sessions will be conducted by our sponsors at various times as per the schedule.
Benefits of Attending: On registration, you will receive full event access. All talks will be conducted by eminent industry leaders in Innovation, IPR, Entrepreneurship and Incubation. You can ask questions, network with speakers, check out live expos and also explore employment opportunities. Certificate of participation will be issued upon submitting the feedback form after the event.
About the theme: Climate change is one of the biggest global challenges. Innovators have the opportunity to develop technologies and build businesses that solve large scale problems. Intellectual Property will therefore play a vital role in promoting sustainable economic growth and fuelling climate action.
Check out the e-brochure: bit.ly/TIF2022_ebrochure
Register from the Turnip Website: turnip.co.in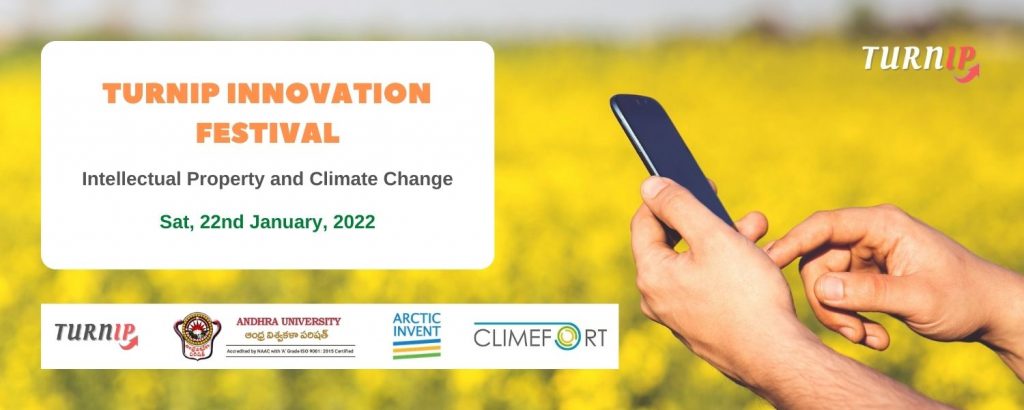 Our Sponsors
Arctic Innovation Consulting: https://arcticinvent.com/
Climefort Ltd. (U.K.): https://www.climefort.com/
Confirmed Speakers:
Dr. Hemang Shah, Director of Engineering, Qualcomm India
Dr. H. Purushotham, DPIIT IPR Chair Andhra University
Dr. Srikant Sola, Founder and CEO, Devic Earth
Mr. Govind Kedia, Managing Director, Arctic Innovation Consulting
Mr. Prajwal Nirman, Founder, Climefort (UK)
Dr. Prachi Pandey, Deputy Director, Startup and IPR Cell, KPGU Vadodara
Ms. Shuchi Agarrwal, Founder and Managing Partner, IPNEETI
Ms. Nishita Baliarsingh, Co-Founder and CEO, Nexus Power
Mr. Tapan Brahma, Founder, Exilyze Intellectual Services
And more!
Register to receive the full event schedule via email
Why attend?
Conferences are powerful mediums to generate fresh perspectives. Learning process can be greatly enhanced when you listen and interact with experts. You also get to know about new tools and practices when you watch live expos!
Conferences in physical spaces are known to cost well over $300 for tickets. With our online mode, you can avail full access for free!
Click Here to Register Now for TIF2022
P.S. You can watch the last years' playlist on our YouTube Channel: youtube.com/c/TurnipInno/