The following text is a chapter from my 2-Week Patent Course. It is about Patent Filing in India, and a bit about maturing ideas to inventions. The course registration link is at the end of the post!
Patent Filing in India
According to the latest Annual Report from the IP India website, "The number of patent applications filed in 2018-19 was 50,659 showing an increase of 5.9% over the filing figure of 47,854 in 2017-18." Out of total 50659 applications filed, number of applications filed by Indian applicants was 17,005. This means that 66% of patents filed in India are by foreign applicants. For more insights, please read at least from page 22 to 32 of the report.
Based on latest Indian filing data, I retrieved the list of top applicants from our own patent database IPGRAM.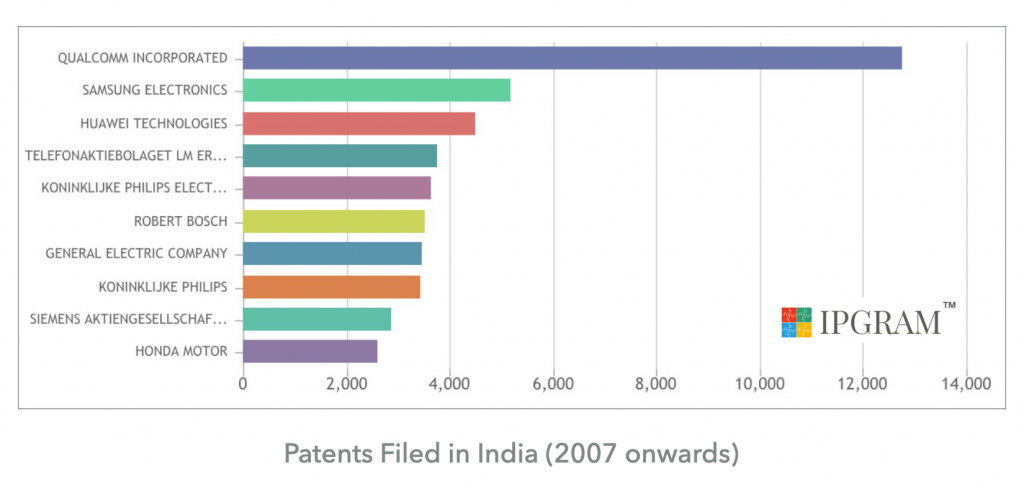 You can see that all the applicants in the above list are foreign companies. Council of Scientific Industrial Research (CSIR), that has many government research units across India, comes at number 14 on the list as the top Indian patent applicant. The total Indian patent filing figure of about 50,000 patents per year is 30 times less than China that is seeing 1.5 million patents filed yearly.
By any measure, the Indian patent filing figure, especially by Indian applicants, is woeful. India needs an entire generation of engineers, scientists and technologists to patent and commercialise their inventions. Innovation is known to be closely related to economic growth. To solve national challenges, India needs a brisk growth rate. Academic institutions should take the lead and put measures in place to convert bachelor, master and PhD theses into patent applications. IPR awareness can go a long way in boosting filings. Anyone can be a patent holder if they have the necessary awareness and creative will.
Notes on how to boost patent applications
An idea is not an invention: An idea becomes an invention when it can be described in extensive details. There is no protection out there for ideas. They cannot be patented or even copyrighted. Develop your ideas by adding detailed features and specifications to them. Thats when an invention will start to mature that you can protect via patents.
Understand what is patentable and what is not: Section 3 of the India Patents Act, 1970 describes in detail about non-patentable subject matter in India. For example, inventions that are frivolous or contrary to well established natural laws; contrary to public order or morality; methods of agriculture or horticulture; literary, dramatic, musical or artistic work; plants and animals in whole or any part thereof; mathematical or business method or a computer programme per se or algorithms.
Writing and Drawing as key skills: Writing is a process where an idea matures into an invention. The process enables the inventor to clarify and isolate their own thoughts. You can simply start by defining your invention broadly using some general statements. What problem does your invention solve? Describe each and every small component of your invention. How do the individual parts work together as a whole? How do they interact with each other? Describe the external environment in which the invention operates. For example, does it need an external power source? Find differentiating points with existing solutions. Similarly, use drawings to show components and process flowcharts. The drawings and diagrams should explain the working of the invention in a better way. They play an important role to increase your chances of success.
Adopt a comprehensive invention disclosure: An invention disclosure form is more than just a formality. Take a lot of time to write it. Please refer to this resource from the WIPO website regarding invention disclosure form reporting. You can get your own ideas and, if necessary, create a template for your institute.
Basic skills in patent search: Prior-art will aid in crystallising your patent claims. You will be able to differentiate yourself with prior-art to clearly state the novelty and inventive step. Prior art search is also very important to "learn" from other patents. This helps validate and develop your innovation.
Use professional services: An experienced patent attorney or patent agent can add significant value to a project. Involving them early in the innovation process can help extract the invention from your ideas. They can also guide you around patentability and prior-art search. For example, how to go around claims of a prior patent? Writing professional patent claims are almost always the task of an experienced patent professional. Inexperienced Inventors should almost always avail professional services for the same.
Indian Patent Filing Process
Make sure you have drafted your patent so that it contains at least the following.
Field of invention
Description of the invention
How does it work
Advantages of the Invention
Also, consider the opinion given to you by the patent consultant regarding patentability. Based on all the information decide whether you want to file a provisional patent or a complete specification. If you think that your invention is not totally "ready" but has potentially high stakes, you can file a provisional patent application.
A Provisional Patent Application is an effective way to "Buy Time" and "Give Shape" to your Innovation. It is a cost-effective way to secure an "Early Filing Date". Since a Provisional Patent is not published, you also ensure secrecy. Provisional Patents give you 12 months' time to file the complete specification. During this time the applicant can evaluate their invention and draft strong patent claims in the complete specification. At the same time, a Provisional Patent Secures your idea from getting Stolen. The application can be abandoned after 12 months if you do not deem your invention worthy enough to file a complete specification. One important thing to consider while filing provisional is that your complete specification cannot add totally new content to the provisional application.
Forms and Fees
Form 1 is used to record the name and contact details of all inventors and assignees. If there is any prior application information, that should be given too. You can view the entire forms and fees information from the IP India website here. In Form 2 you can specify whether you want to file either a provisional patent or a complete specification. It will also require all details like background of the invention, summary of the invention, claims, abstract, etc. In addition, Form 3 (Statement of Undertaking) and Form 5 (Declaration of inventor-ship) also needs to be filed. For individuals, e-filing fees for either a provisional or complete specification is Rs. 1600. The entire fee schedule can be viewed here. The flowchart below captures the overall process of patent prosecution in India.

By default, patents are published by the patent office 18 months after filing. An optional Form 9 can be filled for "early publication" so the patent application is published within one month of filing. The early publication fee for individuals is Rs. 2500. Within 48 months of filing, a Request for Examination (Form 18) has to be filed too that costs Rs. 4000 for individuals at the time of writing. The patent application is examined only after receiving a request for the examination. Upon receiving this request, the controller gives the patent application to a patent examiner who examines the patent based on the different patentability criteria (novelty, inventive step, industrial applicability). If a patent agent is filing on your behalf, a power of authority (Form 26) needs to be filled along with the application.
The examiner creates a First Examination Report (FER) upon reviewing the patent application. The first examination report generally contains prior-art (existing documents before the date of filing) which are similar to the claimed invention, and the same is reported to the patent applicant. The patent applicants will need to create a response to the objections raised in the FER. The response should typically be filed by a competent and experienced patent agent to prove to the examiner that your invention is truly satisfying the patentability criteria.
In some cases, a pre-grant or post-grant opposition can be filed by third parties. This might further complicate and elongate the patent prosecution process. The use of professional services is again recommended to guide you through the entire process.
Once all the objections are cleared in a satisfactory way, a grant will be issued. The grant of patent is notified in the patent journal which is published from time to time.
I hope I have given you enough pointers to move forward on your journey to become a patent inventor/owner. I want you to think of innovation as a process and patenting to be just one part of the journey. Please contact me (rkapoor@ipgram.in) if you wish to avail searching, drafting, filing, etc. services. I wish you all the best on this journey! Please feel free to take the course quiz.
To learn all the basic and practical concepts regarding patents, you can register for the full 2-Week Patent Course here: https://rzp.io/l/patent-information-course